OPPORTUNITE 2016 The Road to Nairobi 2016

 Ibrahima Talibé Camara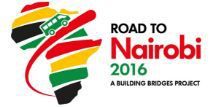 Date d'échéance : 30 juin, 2016
Présentation du donateur
From the metropolis Johannesburg to rural communities in Northern Zambia, from Uganda's agricultural sector to Nairobi's ICT hubs. The Road to Nairobi 2016 project will connect youth entrepreneurs and local change makers in eight African countries to foster youth employment.
The Building Bridges team of African and European youth will conduct field visits to youth entrepreneurs, meet with local youth organizations and converse with youngsters from all walks of life they meet on the road. At the end of each country visit multi-stakeholder events will be organized to present real life case studies and to propose better policies to increase the youth employment rate. Everyone involved will learn from young people on the ground about their environments and challenges to give them a voice and work together on youth driven solutions for youth employment and youth entrepreneurship.
Résumé de l'opportunité
A key component of "The Road to Nairobi 2016" project is the inquiry into the most impactful solutions and best practices from youth entrepreneurs in all eight countries. While on the road the Building Bridges team will daily meet with pre-identified and selected youth entrepreneurs to hear about their problem-based solutions and business models.
Based on their real life experiences, enabling factors will be identified. In each country, multi-stakeholder days will be held where three to five of the youth entrepreneurs get the chance to pitch their ideas to the private sector and local policymakers. At our High Level Meeting in Nairobi, five youth entrepreneurs with the most innovative and impactful ideas will pitch their ideas. The aim is to inspire concreate action: up-scaling initiatives of youth entrepreneurs and increase the youth employment rate.
Critères d'éligibilité
In order to apply you need to match the following criteria:
You must be between 15 and 35 years old.
You must be a national or a resident of the following African countries:
South Africa, Mozambique, Zimbabwe, Malawi, Tanzania, Kenya, Uganda or Rwanda.
Your business must be up and running. The Road to Nairobi 2016 project is not for great
ideas or business plans – you must have already started and be able to prove it!
Your business, invention, or social project can be in any field or industry
(science and technology, industry, agriculture, water, etc.).
Individuals who apply must be one of the founding members of the business.
Our appointed youth ambassadors will establish their own dream teams. Together they will identify youth entrepreneurs who have been truly impactful in their local societies. The youth entrepreneurs will be selected based on creativity, innovation and contribution to the local society.
Comment postuler
The country for which you are applying to be selected as Youth Entrepreneur
South Africa (Deadline: 30th June)
Mozambique (Deadline: 30th June)
Zimbabwe (Deadline: 14th July)
Malawi (Deadline: 14th July)
Tanzania (Deadline: 28th July)
Kenya (Deadline: 28th July)
Uganda (Deadline: 18th August)
Rwanda (Deadline: 18th August)